DIMPLE SURGERY IN INDIA (DIMPLEPLASTY)
DIMPLE CREATION SURGERY & RECOVERY STEPS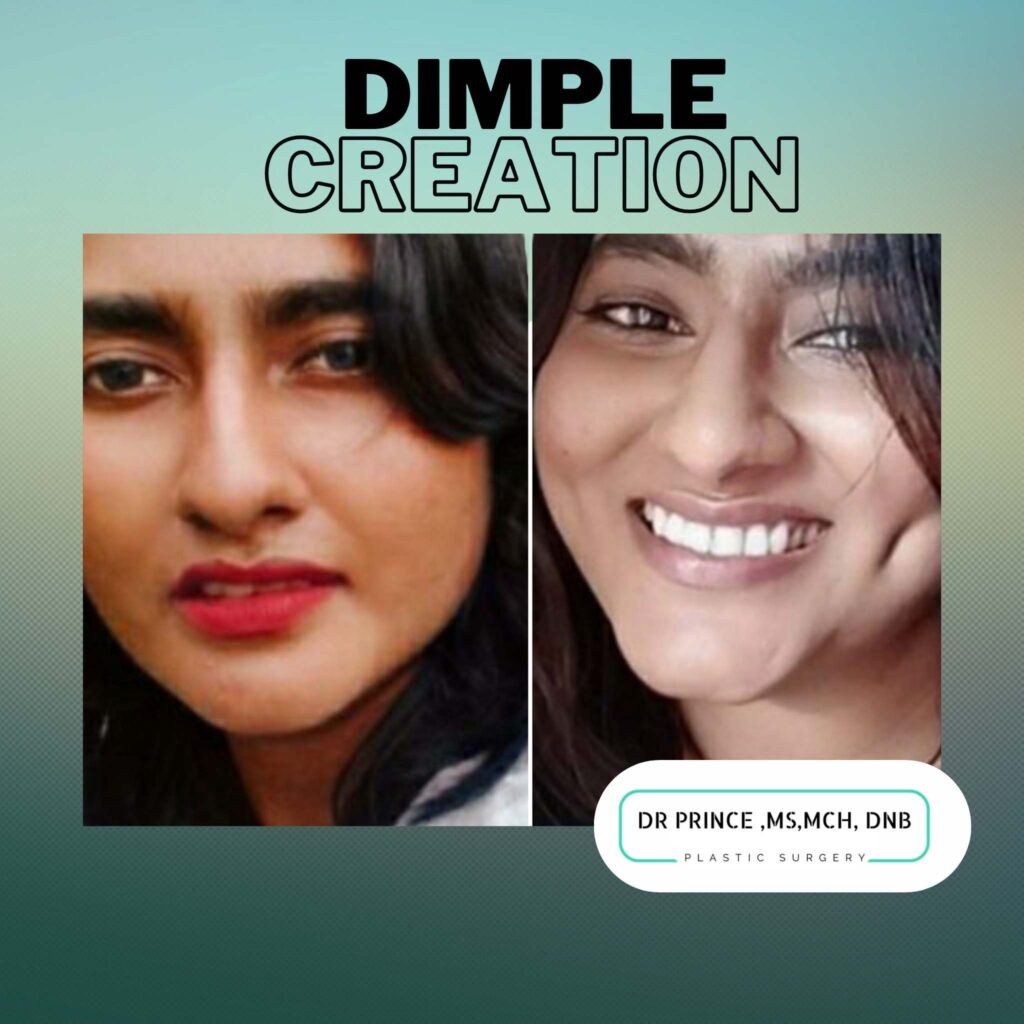 Cheeks form the contour of the face. While many are blessed with the perfect profile, many others have different blessings to count. Some want dimples, while some others face the world looking disproportionately heavy faced and puffy cheeked. Options abound, and when you have a good cosmetic surgeon to guide you, even the most challenging features can be corrected, without tampering with the real you.
Dimples, they say bring lady luck to your doorstep. Also, dimples are kind of cute. They add to a person's personality, their allure. Often, when people don't have natural dimples, they get them through cosmetic surgery. In truth, dimple creation is quite a simple procedure. Of course, you need a qualified Cosmetic Surgeon to perform it on you.
WHAT TO EXPECT BEFORE THE DIMPLE OPERATION?
You will be advised to stop smoking at least two weeks before surgery. Besides, the surgeon shall advice you to avoid certain medications such as Aspirin (blood thinning agents).
HOW IS THE DIMPLE MAKING PROCEDURE PERFORMED?
Plastic surgery for face dimples  is not a complicated procedure and is done under local anesthesia. Even better news: you don't need to be admitted to the hospital. It is an outpatient procedure and should hardly take about 20 minutes. Our Cosmetic Surgeon will mark the exact spot where you want your dimple to appear when you smile. The area will be anesthetized. A specialized instrument (punch biopsy) will be placed against the inner cheek which cuts through the mucosa, sub mucosal fat and cheek muscles. This circular core is then removed leaving skin intact, leaving behind a shallow cylindrical shaped defect below the skin, following which double sutures are put in. The wound is then closed with melt-in stitches.
WHAT TO EXPECT AFTER THE DIMPLE FACE PROCEDURE.
Normal activities can be resumed right after the procedure, though you can try and avoid strenuous activities. Ice the spot that swells up for 2 to 3 days. Food wise you can eat normally, but there are strings attached to normal expressions. Smile wide, frown hard. For once it's good for you. These expressions will quicken the process and the swelling will reduce. The post operative care will involve an antibiotic regimen and regular rinsing of the mouth with antiseptic solution.
Time taken for dimple to appear naturally: 6 to 8 weeks. In the meanwhile, it will show up even when you are not smiling. Don't worry. It's normal.
Certain people has dimple on one side, so it can be created on another side also.
DIMPLE SURGERY SIDE EFFECTS
Sometimes, swelling persists. Again, sometimes, an asymmetry may occur. Abscess may form due to the suture. It is simply a reaction to a foreign body in your cheek. The knot put in may not work, and the dimple may disappear. Not to worry. It can be re-inserted. In such cases, contact our Cosmetic Surgeon. He will know what to do.
In very rare cases, there could be facial nerve weakness. Facial paralysis is an even rarer occurrence, but cannot be completely ruled out.
If you have done the cheek dimple procedure from somewhere else and the dimple surgery gone wrong, you can consult dr prince to get a redo dimple surgery
DIMPLE SURGERY COST IN INDIA
Dimple making price usually starts from 25000 INR.
DIMPLE CHIN
Can be created in a similar way as cheek dimples.
Is dimple surgery permanent?
Yes, usually the dimple surgery is permanent. but in 10 percent people it may resolve, which can be re done.
CAN I CHOOSE THE PROMINENCE OF THE DIMPLE?
Yes, you can. If you want a very prominent dimple, all it takes is a bigger punch biopsy to remove a bigger core of soft tissue. And if you desire a less prominent one, the surgeon shall opt for a smaller punch biopsy.
WILL IT BE FEASIBLE TO HAVE A DIMPLE CREATED IF I AM CHUBBY?
This procedure is suitable for any sort of cheek – be it chubby or not. Though, it would be much easier to perform if they are not too chubby.
How to get dimple on face without surgery?
There is no Dimple making machine, you have to get it done by a surgery. which is safest and most effective way
Is dimple surgery painful?
Done under local anaesthesia, so Dimple making surgery is not painful.
does dimple surgery look natural?
Venus dimples, or SACRAL DIMPLES which appear naturally in some womens' lower backs, have become a new desirable must-have thanks to models like Kendall Jenner and Miranda Kerr showing theirs off in low-cut dresses and bikinis. And if you've got your own, you should be proud of them.
What are dimple piercing called?
Back dimple piercings are dermal piercings. Dermal piercings have a single point rather than an entry and exit point like traditional piercings. Its different from dimple creation.